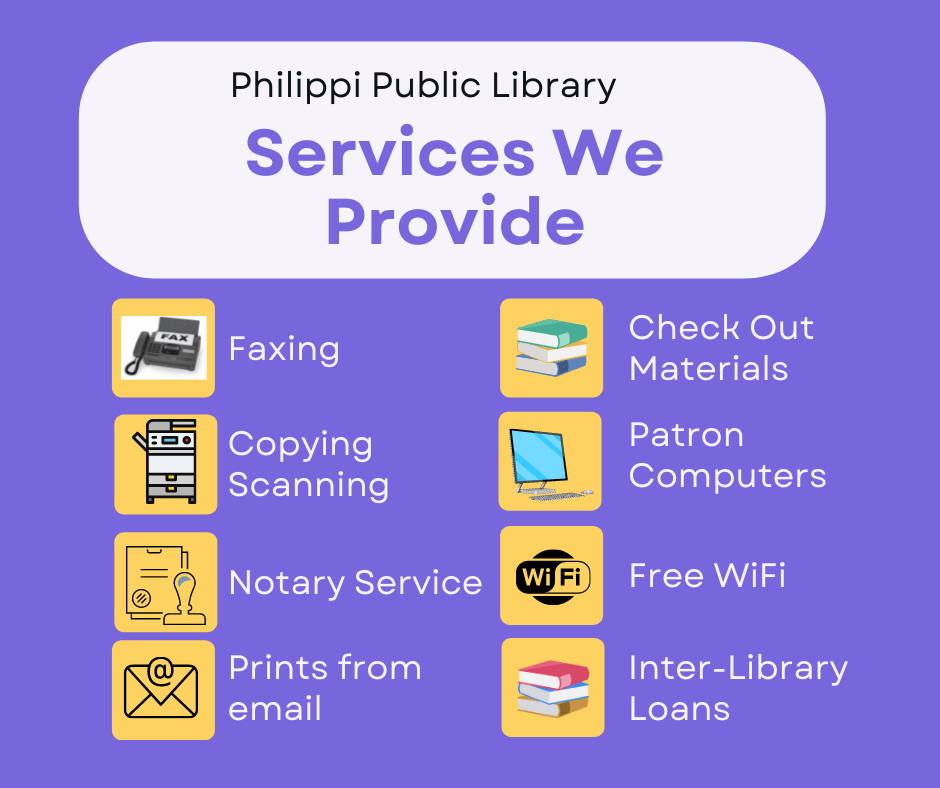 Faxing
$1.00 a page
Copying
(8 1/2 x 11) $.20 per page/side Black and White
(8 1/2 x 14) $.30 per page/side Black and White
$1.00 per side Color
Scanning
$.20 per page/side
Notary Service
Free. Donations gladly accepted
Prints from Email
(8 1/2 x 11) $.20 per page/side Black and White
(8 1/2 x 14) $.30 per page/side Black and White
$1.00 per side Color
Check Out Materials
FREE! First Library Card is free, a replacement card is $3.00
Patron Computers
FREE! No Library Card required!
Wi-Fi
Connect to PPL for free during or after business hours from inside the building or in the parking lot after business hours.
Kids Connect – For Students. Students use their school log in info provided with their Chromebook to use this Wi-Fi service.
Inter-Library Loan
We don't have the item you are wanting? We can see if another library has it and have it sent to us for you to enjoy!
$3.00 return postage per item is due when you pick up the item. (Except when we are doing free ILLS. Check our Calendar for available dates)
Over Dues
Books, Periodicals, Etc. – $.15 per day per item
DVD's and Blu-Rays – $1.00 per day per item
Amnesty Weeks and Fine Free Fridays
Several times a year the Library conducts Amnesty Week/s & Fine Free Fridays. Current fines will be waived on returned overdue items.
Food For Fines
Several times a year patrons may pay their fines with non-perishable food items which are donated to a local food pantry.
Fundraising Activities
The public is encouraged to join us in our raffles, silent auctions, used book sales, and other fundraising events throughout the year; Run for It in September and special items for sale periodically in the Library and at community events.
Circulating Materials
Non-Circulating Materials
Children's Board Books
Children's Easy Books
Juvenile Chapter and Non-Fiction Books, Graphic Novels, Young Adult Books, and Adult Books
Large Print Books
Magazines
West Virginia Fiction and Nonfiction
Civil War Collection
DVD's, Audio Books on CD
Downloadable eBooks & Audiobooks
West Virginia Library Commission Rotating Collection Audio Books
Newspapers
Reference Materials Genealogy Materials
Toys
LEGO
Magnets
Board Games

Genealogy Research Requests
Using our Genealogy section in the library, online resources, and some good old detective work, we can try to help you find the information you are looking for!
---