Resources
by Philippi Public Library
WVInfoDepot.org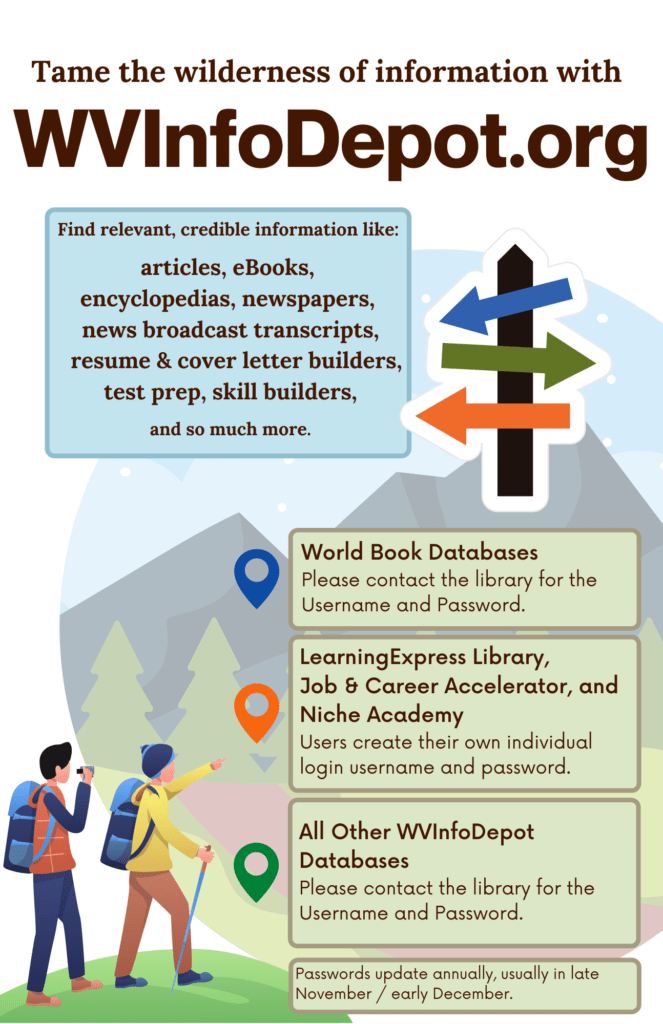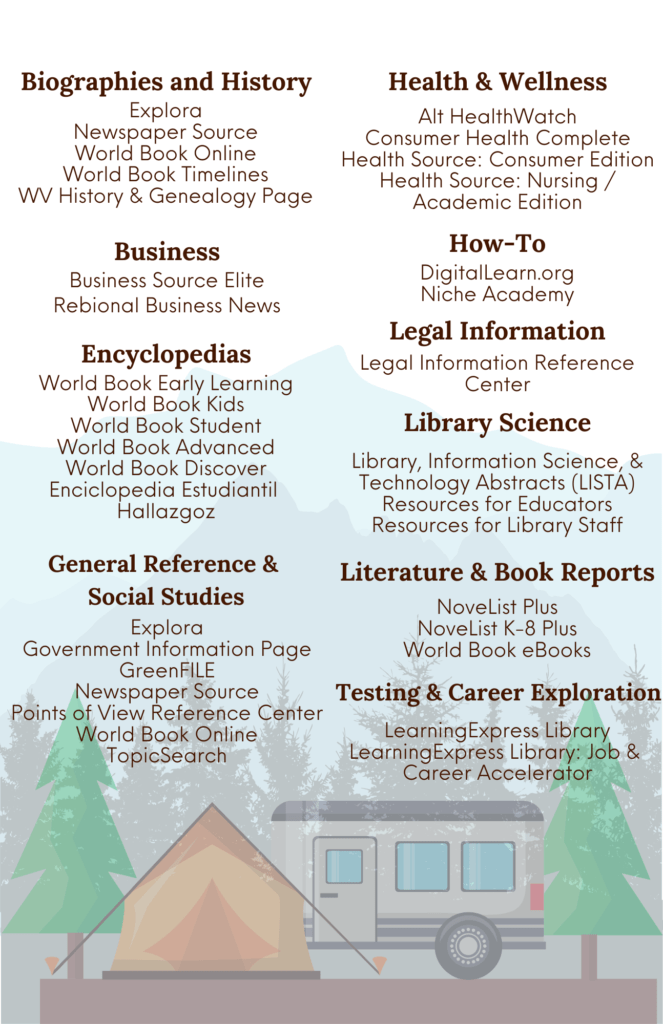 What is WVInfoDepot.org?
WVInfoDepot.org, the West Virginia eLibrary, is an anywhere, anytime library that you can access from your home computer, school or public library, or mobile device. You can explore millions of magazine and newspaper articles, encyclopedias, eBooks, digital images, test preparation resources, scholarly journals, historical materials, and more.
WVInfoDepot.org is funded by the Library Services and Technology Act (LSTA) via the Institute of Museum and Library Services (IMLS) through the West Virginia Library Commission. Additional resource funding is provided by the State of West Virginia.
If you are attempting to access these resources outside of the library, you will need to call the library and request the username and password.
WV READS
Need help using WV READS? The following links may be of use for you. If you need more help, feel free to call us at (304) 457-3495, or come in and ask for help with setting your device or smartphone up.
To access eBooks on your computer, visit the WVReads website, log in using Upshur County Public Library as your library and your library card number, and enjoy our eBooks, eAudiobooks and eMagazines within your browser of choice! If this is your first time using WVReads, the Getting Started page may be helpful.
iOS/Mac & Android tablets & Smartphones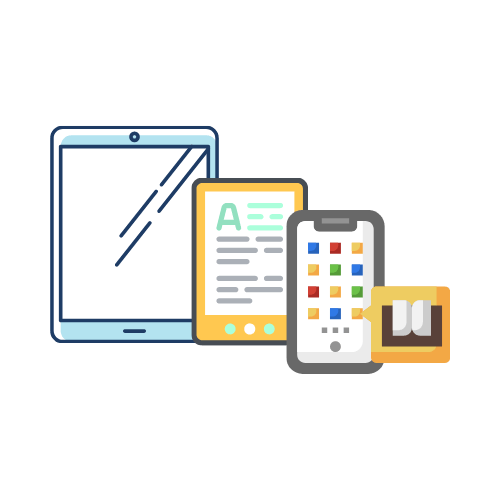 ---
Guides are in .pdf format, so please use Adobe Acrobat to view.
Libby Smartphone/Tablet App – How to use the Libby app on Android or iOS smartphones, Chromebook, iPads, Kindle Fire or Nook Tablets, and Windows 8+
Dedicated eReader help – You can borrow eBooks from your library and transfer them to compatible eReaders using free Adobe Digital Editions (ADE) software on your computer.
Kindle Fire users, please use these instructions as an alternative to the above.
Frequently Asked Questions
What is OverDrive? – Overdrive is a digital management company that hosts and distributes the library's electronic database of eBooks, audio books, and streaming videos.
What is the Libby App and why do I need it? – The Libby app is designed to work on any tablet and simplifies the process of borrowing library eBooks and reading them on your device.
How do I download eBooks? – Follow the instructions above for your specific device(s).
Why do I need an Adobe ID? – Many eBooks contain Digital Rights Management (DRM) protection that protects the book from being shared with others. Your Adobe ID is used to authorize the book to your email address so that it is not locked on a single computer, but can be shared across your devices that are authorized with the same ID.
Why isn't my library card number working? – Please check to make sure that you are entering your barcode number exactly as it is printed on the back of your library card number. If you are entering your barcode number correctly and you are still unable to logon, please call the Philippi Public Library at 304-457-3495.
Can I check out library books on my Kindle? – Yes! Most of our eBook collection is available in both ePub format and Kindle format so that they may be enjoyed across a wide range of devices. If you check a book out in Kindle format, it can also be read in the Kindle app on a variety of devices.
What is WV READS? – WV READS is a digital library consortium with member libraries representing many different counties throughout the state of West Virginia. The collection has many different eBook, audio book, and streaming video titles to choose from. If you would like to see something we do not have in our Overdrive collection, ask at the circulation desk for it to be ordered.
Can I return a library eBook before it has expired? – Yes! The process varies depending on the type of device and format of the eBook. For more instructions, please look at the tutorials above.
Can I renew a library eBook? – Yes! Three days before your eBook is set to expire, a renew option will appear on your bookshelf in your WV READS account screen. However, if another patron has placed a hold on the book, you will not be given an option to renew.
Why doesn't the library have the book I want to borrow? – Our annual budget has a portion set aside to purchase eBooks and audio books to add to the WV READS collection. However, not all publishers (such as those available on Amazon or Audible) have made their eBook publications available to libraries. Not all eBooks are published at the same time as the print edition, with many older titles not available at all. Publishers do revisit their earlier publications periodically, but must purchase the rights to publish their earlier books in electronic format before they are available to purchase.
All of the eBooks I want to checkout have already been borrowed. Why is this when digital copies are unlimited? – We purchase eBooks just as we purchase print books: one copy at a time. Most eBook publishers prefer to sell their books this way, rather than allowing an indefinite number of downloads. Some eBook publishers also limit the number of checkouts or the amount of time the title is available for library patrons to enjoy before forcing libraries to purchase a new copy. Recent releases have the highest demand within the collection, but there are many other books to read. Try refining your search to show only those books that are available now and don't hesitate to place a hold on the book you would like to read.